Pharmaceutical Franchise in Dadra and Nagar Haveli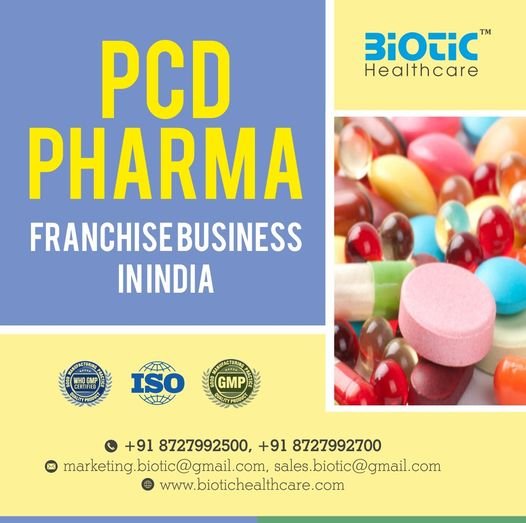 Pharmaceutical Franchise in Dadra and Nagar Haveli – With a total population of about 220,084, Dadra and Nagar Haveli is among the profitable locations to start a business. This place is loaded with business resources and more than 2118 small-scale business industries. Our company biotic Healthcare has also opened its doors in this union territory for all the interested business seekers with Pharma Franchise in Dadra and Nagar Haveli. We are an ISO 9001:2015 certified company that holds more than 15+ years of experience and industrial exposure.
Biotic Healthcare is a GMP and WHO certified pharmaceutical company that has been making headlines with its 300+ multi-specialty pharma range. We manufacture and deliver the highest quality products that belong to the Derma Range, General Range, Cosmetic Range, Gynae Range, etc. Our products are legally approved and meet all relevant internal, statutory, and pharmacopeia standards. Therefore, if you are looking for a profitable business opportunity, then choose the Best , Biotic Healthcare.
If you find this information interesting and you want to experience the best business services, then join us. Dial 8727992500, 8727992700, 9875942330, or send us an email at [email protected], [email protected], [email protected] to know more.
Work with the Best PCD Pharma Franchise in Dadra and Nagar Haveli - Biotic Healthcare
Biotic Healthcare is India's top-most pharmaceutical company that not only delivers high-quality products but also provides tremendous franchise business services. We have been an important part of the Indian healthcare sector that is contributing to the industry's growth for over a decade now. We provide unmatchable services and a superb line of pharma products in the form of Tablet, Capsule, Injection, Ointments, Sachets, etc. Our products will help the people of Dadra and Nagar Haveli to enhance their health. Below are the reasons why you should get involved with the Top Pharmaceutical Franchise in Dadra and Nagar Haveli:
The company has its own production houses that are located in excise-free zones.
We have enough arrangements for contamination-free product storage.
Our manufacturing units are integrated with hi-tech devices.
We have a skilled team that involves quality controllers, R&D scientists, packaging experts, manufacturing supervisors, etc.
Our workspaces are air-conditioned and fully sanitized.
Advantages of Starting Pharmaceutical Franchise Business in Dadra and Nagar Haveli
Famous for lush greenery, rich culture, distant hills, cascading waterfalls, and Portuguese architecture, Dadra and Nagar Haveli is one of the famous Union Territory. This place is also home to so many medium-scale industries. The combination of a high population and never-ending demand for pharma products makes it one of the best locations to start a PCD Pharma Franchise business. But one needs to link with the right company to reap out maximum benefits. If you are an interested business seeker or someone belonging to the pharma sector who is looking to opt for Pharma Franchise in Dada and Nagar Haveli, contact Biotic Healthcare.
Here are some advantages of working in Dadra & Nagar Haveli:
You will get tremendous scope, growth, and business opportunities here.
The markets are big and full of profit-earning opportunities.
The population here is seeking quality medicines and better medical arrangements.
You will get greater business expansion opportunities.
Promotional Support Provided by Biotic Healthcare
Biotic Healthcare is working in this industry for over a decade now. The company not only delivers reliable pharma solutions for Pharmaceutical Franchise in Dadra and Nagar Haveli, rather takes care of the client's needs as well. The company makes sure to meet the necessities of its associates in the best possible manner. For marketing and promotional assistance, the company has crafted a custom-made set of promotional tools. These tools are made under the supervisor of the marketing specialists and are provided absolutely free to the franchise associates.
Visiting Cards
Product list
Chemist order book
Visual aids
Company literature
Calendars
Notepad
Monopoly Based Pharma Franchise in Dadra and Nagar Haveli
Biotic Healthcare has everything that is needed to start and expand business in Dadra and Nagar Haveli. By providing business opportunities in Dadra and Nagar Haveli, we are inviting all medical representatives, retailers, wholesalers, pharma aspirants, and interested business seekers. The company will provide you best quality pharma products to deal with and monopoly rights for your region as well. Below we have mentioned the benefits you will get by taking Pharmaceutical Franchise in Dadra and Nagar Haveli from us:
We will provide you with high-quality pharma products.
The company assures full marketing support.
We provide guaranteed returns.
24/7 customer.
We deliver superb quality packaging.
You will get great incentives.
If you belong to Dadra and Nagar Haveli and you want to step into the pharma sector, then we have the perfect business opportunity for you. Contact Biotic Healthcare and Kick start your business.
Contact Us
Name: Biotic Healthcare
Address: Plot No. 43 (Ground floor) Industrial Area, Phase - 2 Panchkula – 134113.
Phone: 8727992500, 8727992700, 9875942330
Email: [email protected], [email protected], [email protected]