Pharma PCD Franchise in Nagaland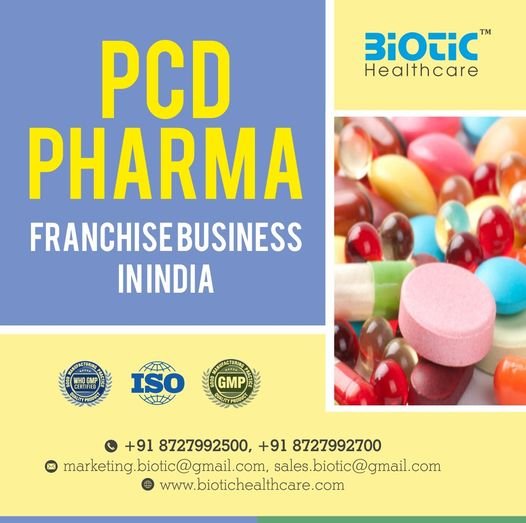 Pharma PCD Franchise in Nagaland - Over 15 years of experience in the pharmaceutical market, Biotic Healthcare is one of the most reckoned healthcare organizations that is committed to manufacturing and supplying incomparable quality pharma formulations. After witnessing the upsurging necessities of quality medicines in Nagaland, the company made it to spread its presence in the state with spectacular opportunities of PCD Pharma Franchise in Nagaland.
Biotic Healthcare is furnished by the ultramodern manufacturing facilities that enable us to deliver top-quality pharma medicines and drugs in the form of tablets, capsules, sachets, soft gels, dry syrups, injectables, and much more. If you are looking for a profitable business opportunity in Wokha, Longleg, Phek, Kiphire, Kohima, Tuensang, etc., then settle upon the Best PCD Pharma Franchise Company in Nagaland, Biotic Healthcare.
If you want to build your career on your own terms with a successful business venture, then get in touch with Biotic Healthcare on 8727992500, 8727992700, 9875942330, or drop an email at [email protected]
Rich Market Scenario of Pharma Medicines in Nagaland
Nagaland, a home for more than 2 Million citizens, is a mountainous state in Northeast India. The growing population here tends to take the health issues together which directly influences the demand for medicines in the state. Favorable economic conditions, booming medical demands, and strong support from the government make Nagaland one of the favorable locations to run a business.
As per the statistics, it has been examined that there has been around 75% aggrandizement in the demand for pharma medicines and drugs. This forced us to bring our effective product range in the state and franchise business opportunities as well. Thus, starting a business here will definitely be fruitful. If you want to excel in your business here, then do join hands with the Top PCD Pharma Company in Nagaland, Biotic Healthcare.
Districts Covered for PCD Pharma Franchise in Nagaland
Biotic Healthcare is the most dynamite PCD company that believes in providing mutual business benefits and thus,  The company has a sole purpose to widely spread its business and make its products available across the state. We are putting 100% from our end to provide a suitable source of income to all the business finders in Nagaland that want to make their name in the pharma industry. To provide our top-notch business opportunities, we have covered the following districts in Nagaland:
Longleng
Kiphire
Mon
Kohima
Wokha
Phen
Tuensang
Mokokchung
Dimapur
Peren
Zunheboto
Broad Variety of DCGI Approved Products at Minimal Prices
Being the Top Pharma PCD Franchise Company in Nagaland, Biotic Healthcare is able to provide 400+ best quality formulations to cater to the urgent medical requirements of people residing in Nagaland. Our product range clearly reflects excellence and the efforts of our healthcare expert team.  We follow a set of quality policies assembled by the legal bodies and that is clearly visible in our formulations. We are redefining the quality of life by serving top-quality medical solutions at unexpected rates. 
Made with rich ingredients, the product range available at Biotic Healthcare includes:
Capsules
Dry Syrups
Tablets
Liquids
Drops
Soap
Injectables
Ayurvedic/Herbal Range
Creams 
Ointments
Soft Gel Capsules
Kids Care, etc.
Link with Biotic Healthcare to Receive Remarkable Pharma Franchise Deals
Assisted a leading pharma workforce and owning amazing infrastructural facilities, Biotic Healthcare is the Best Pharma Franchise Company in Nagaland. The company has a PAN India presence and after spreading its roots across the Nation, we are now aiming to target the famous North-eastern Indian state Nagaland.
We have dedicated ourselves to meeting the necessities and requirements of our clients by providing them with a world-class pharma range and business services. At Biotic Healthcare, you will find result-oriented pharma products and monopoly-based Pharma PCD Franchise deals. Benefits of working with the top Pharma PCD Franchise Company in Nagaland:
We will deliver your consignments within a specific time period through a sublime transportation network.
All sterilization and hygiene protocols strictly adhere to our premises.
Our infrastructure is legally authorized and comply with every quality and safety standard.
We have the best panel of pharma experts that includes R&D scientists, packaging supervisors, etc.
You will get below-par services at unmatchable prices at Biotic Healthcare.
Contact Details!
Name: Biotic Healthcare
Address: Plot No. 43 (Ground floor) Industrial Area, Phase - 2 Panchkula – 134113.
Phone: 8727992500, 8727992700, 9875942330
Email: [email protected], [email protected], [email protected]