Pharma PCD Franchise in Goa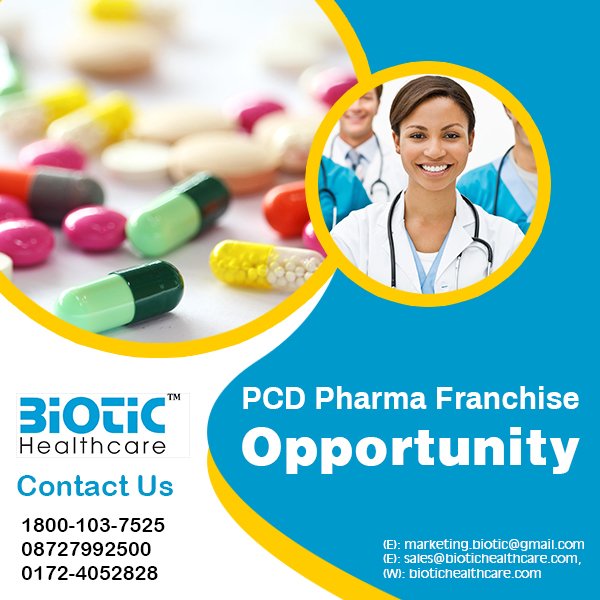 Pharma PCD Franchise in Goa – In recent years, the Indian pharmaceutical industry has changed the way it operates. Through it, the access to medications of the patients will be improved. Big organizations have started offering franchises on a monopoly basis. Seeing this, individuals are rushing towards the pharma industry! And if you are also planning to invest in this industry then you can connect with the Best PCD Pharma Franchise Company in Goa – Biotic Healthcare and can grab a marvelous franchise opportunity for you.
---
The company is dedicated to the creation of astonishing franchise business opportunities for individuals, and other interested medical personalities. We have helped a lot of individuals in setting up a franchise business at their desired location. Apart from this, we have become the Top PCD Franchise Company in Goa by delivering 100% pure, side-effect-free, and most effective pharma drug solutions at a very affordable cost. And you can also become a part of our company by taking a pharma franchise from us now!
Get more detailed information about our infrastructure, policies, requirements, and product pipeline, just make a call at +91 8727992500, +91 8727992700, +91 9875942330, or send us an email at [email protected], [email protected], [email protected].
PCD Pharma Franchise in Goa | Profitable Business Venture
Goa is India's one of the fastest-growing states that hold 18.2 lakh inhabitants. The state is densely populated, therefore, the scope of investing in the PCD Pharma Franchise in Goa is huge. One can earn desired profits and success from the business as the demand for quality pharmaceutical products is quite high all across the state.
Along with it, there is a lack of suppliers and distributors that makes the market conditions fruitful for one. Therefore, you can start your PCD Pharma Franchise Business in Goa and can get support from the government also. Apart from this, you will get the most innovative pharma products after joining hands with us.
Premium Quality Product Range for Pharma Franchise Business
Biotic Healthcare is a collaborative specialty pharmaceutical company that is focused on the smart, integrated and precise production of top-notch quality pharma products. The company formulates patient-friendly products and markets them at a very decent price. Currently, we are commercializing an advent range of pharmaceuticals that covers various therapeutic areas. Along with it, we are offering a DCGI certified product range for franchise services that makes us the Best PCD Pharma Franchise Company in Goa.
Pharma Product Categories for Franchise Services:
Softgel Capsules,
Ointment,
Cream,
Tablets,
Drops,
Capsules,
Liquids,
Soaps,
Injectables, etc.
All the above-listed product categories are available at Biotic Healthcare for PCD Pharma Franchise in Goa. And after collaborating with us, you can also deal with a broad product catalog that addresses the market needs perfectly!
Notable Features of Our Leading PCD Pharma Franchise Company in Goa
Our company has made its valuable presence in the healthcare industry by offering top-of-the-line franchise services to clients at very genuine rates. We promise to provide 100% satisfactory services, therefore, appreciated the most. Apart from this, we are world-renowned for our simplicity in dealings, honesty, integrity, and infrastructure. You can also avail of our franchise services and can reach new heights in your pharma business.
Some Highlights of Biotic Healthcare:
The cGMP compliant manufacturing facility,
Strong capabilities of bulk production,
Contamination free spacious warehouses,
World-class infrastructural facilities,
Provide attractive packaging and labeling, etc.
Hence, these are a few major features of our leading PCD Pharma Franchise Company in Goa that separate us from others. Our inclination is towards making our services most appreciated, get in touch with us and help us improve!
Vast Advantages of Choosing Biotic Healthcare Over Others
Being the Best PCD Pharma Franchise Company in Goa, we offer numerous benefits to our franchise partners so that they don't get any hindrance in running their business. We never leave the hands of our franchise associates, thus, we are considered the best for franchise services. Apart from this, we have climbed the ladder of success by setting up successful franchises all across the nations, Hence, we valued every collaboration and seek long-term client relationships!
Benefits of Linking with Biotic Healthcare:
Be your OWN BOSS through the unique monopoly rights shared by us.
Get your products on time attributed to our robust transportation network.
Sell the most innovative pharma products and enjoy our best-in-class franchise services.
We provide remarkable promotional tools to our business partners at zero cost for better market penetration.
Therefore, these are a few benefits that you can enjoy after collaborating with the Best PCD Pharma Franchise Company in Goa – Biotic Healthcare. Further, you can enjoy some other benefits too such as 24*7 customer support, great revenue returns, high-profit margin, etc.
Reach out to us!
Name: Biotic Healthcare
Address: Plot No. 43 (Ground floor) Industrial Area, Phase - 2 Panchkula – 134113.
Phone: 8727992500, 8727992700, 9875942330
Email: [email protected], [email protected], [email protected]