Pharma Franchise for General Medicine Range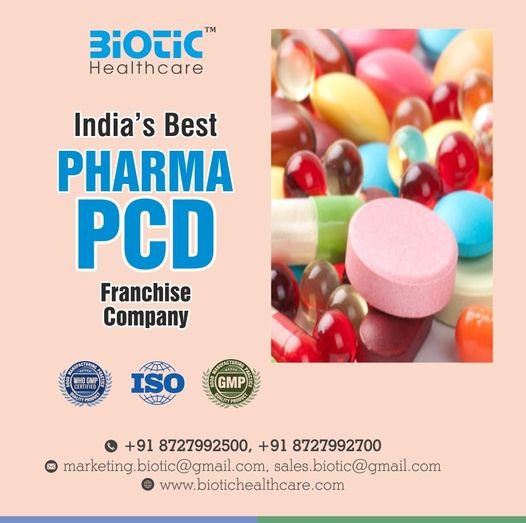 Pharma Franchise for General Medicine Range – With more than 15+ years of experience and by delivering more than 400+ high-quality pharma remedies, Biotic Healthcare is one leading pharma brands working in the Indian market. The company is ISO 9001:2008 certified and is offering the best Pharma Franchise for General Medicine Range. We deliver a magnificent range of General medicines in the form of tablets, capsules, injections, etc. Our products hold better shelf life as they are made using quality raw material and pack under air-tight packaging.
With the growing healthcare issues all across the nation, the demand for General Medicines is accelerating as well. Thus, working with this medicine range will bring you good fortune and better profits. Biotic Healthcare is meeting the market necessities by consistently delivering one of the widest general Medicine range in the market. We are the Top in India. We have a vast distribution of more than 500+ satisfied clients across the country. If you are planning to start your own business and wanted to work with a well-established company, do contact Biotic Healthcare.
Call us on 8727992500, 8727992700, 9875942330, or send us an email at [email protected], [email protected], [email protected].
Best PCD Pharma Franchise for General Medicine Range – Biotic Healthcare
By delivering quality products and by offering monopoly based franchise business services across the nation, We Biotic Healthcare has become one of the leading pharma companies. The company was started with the vision to completely transform the Indian healthcare infrastructure. We are operated by thoughtful and experienced hands who hold enormous experience & expertise in working in the pharma sector. Apart from this, our ethical code of conduct directs us to maintain full transparency and professionalism with our clients & customers. Below are the highlights of Biotic Healthcare:
The products that we offer for Pharma Franchise for General Medicine Range are quality assured and clinically tested.
We have a team of pharma experts and manufacturing supervisors for handling business operations.
The company has GMP-WHO assured production units.
We make sure to deliver a quality assured General medicine range.
Our entire range is packed and delivered under air-tight packaging.
High-Quality General Medicine Range Available for Distribution
Biotic Healthcare uses modernized resources to fabricate India's widest and most wanted General Medicine range. The company has acquired a strong hold on the Indian healthcare map by delivering a quality assured General Medicine range. We use the best quality raw material that is scientifically tested and acquired from India's top-most suppliers. Apart from this, we have a specialized team of experts working at our premises that design, manufacture and pack the widest General Medicine Range for the PCD Pharma Franchise. Below is the range available at Biotic Healthcare:
Soaps
Softgel Capsules
Liquids
Drops
Tablets
Herbal/Ayurvedic
Injectables
Cream/Ointment
Dry Syrup/Powder
Capsules
Injectables
Promotional Support Offered by Biotic Healthcare
Being the Best PCD Pharma Franchise for General Medicine Range in India, we at Biotic Healthcare make sure to provide full assistance to our clients. The company is operated by a panel of experts who are client oriented and take every decision in favor of the clients. Talking about the promotional assistance, the company provides free of cost promotional tools to the clients taking Pharma Franchise for General Medicine Range. Below is the list of promotional tools delivered by Biotic Healthcare:
MR Bags
Diaries
Pen Sets
Notepads
Reminder Cards
Visiting Cards
Company Literature
Visual Aid
Why Choosing Us will be a Fruitful Business Decision?
If you are someone who wants to get the most value for its investment, then you should definitely consider choosing the PCD Pharma Franchise for General Medicine Range in India, Biotic Healthcare. We are one of the top pharma brands in the Nation that works day and night to come up with a magnificent range of General medicines. The company is backed by all the tools and literature that are required to successfully start and expand business in the Indian market. By choosing us, you will get a chance to deal with the market's best professionals and experts. Below are the perks of choosing the Top Pharma Franchise for General Medicine Range in India:
We have a PAN India presence.
The company provides the leverage to start a business at your preferred location.
You will be provided with full monopoly rights for distribution.
All the franchise holders will get free promotional support from our side.
We will hand over a quality general medicine range at affordable prices.
For More Information
Name: Biotic Healthcare
Address: Plot No. 43 (Ground floor) Industrial Area, Phase - 2 Panchkula – 134113.
Phone: 8727992500, 8727992700, 9875942330
Email: [email protected], [email protected], [email protected]