Pharma Franchise for Anti-Inflammatory Medicine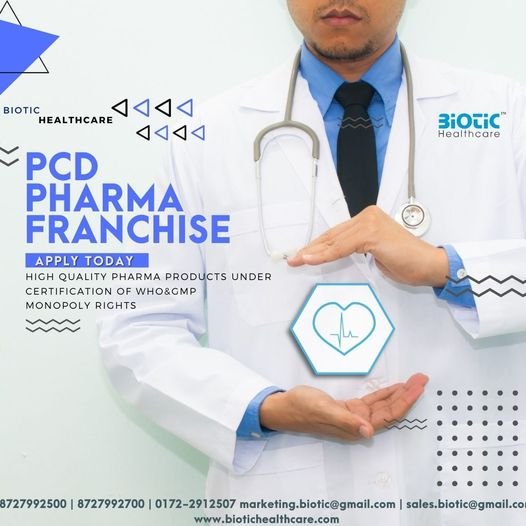 Pharma Franchise for Anti-Inflammatory Medicine – The Global Anti-inflammatory Medicine Market is foreseen to grow at a CAGR of around 6% in the upcoming years of 2021-25. Because of the forecast of the highest growth factors of working with anti-inflammatory medicines, many business investors are hastening towards running their business in this particular range. Biotic Healthcare, the Top Pharma Franchise Company for Anti-Inflammatory Medicine Range has come with astounding business opportunities in the anti-inflammatory drug range.
Biotic Healthcare is the most trusted healthcare brand that holds the capacity of manufacturing and delivering a wide range of pharma range of more than 400+ products. With our rich expertise, we have been producing pharma products covering various therapeutics including anti-inflammatory, anti-biotics, antifungals, anti-microbials, antacids, expectorants, anti-allergic, nutraceuticals, and much more. Our anti-inflammatory range is considered one of the most demanded and profitable ranges of all. This determined us to bring opportunities of PCD Pharma Franchise for Anti-Inflammatory Medicine for the business seekers across the country.
To know detailed information about our specialized anti-inflammatory product portfolio, call us on 8727992500, 8727992700, 9875942330, or email us at [email protected], [email protected], [email protected].
High Prevalence of Anti-Inflammatory Medicines in Global Market
Anti-inflammatory medicines or Non-Steroidal Anti-Inflammatory Drugs (NSAIDs) are the most common and most demanded medicinal range across the globe. These drugs are generally used to relieve pain and to relieve the symptoms of headaches, sprains, strains, colds, flu, menstrual cramps, and arthritis. The increasing prevalence of inflammation-related diseases is the chief factor that is rushing the Anti-Inflammatory Therapeutics Market upwards.
Due to the current market scenario of Anti-inflammatory medicines and its forecast, it has been proved that this range is exceedingly advantageous to run a franchise business. It contains high success and profit margins for all the business aspirants that are willing to trace their appearance in the pharmaceutical market. Thus, obtain the premium quality Anti-inflammatory Medicine Range for PCD Pharma Franchise, delivered by Biotic Healthcare, and seize countless benefits.
Biotic Healthcare - Top Pharma Franchise Company for Anti-Inflammatory Medicine
Biotic Healthcare is the most reliable pharmaceutical organization that has successfully made up its forum into the domestic as well as international markets with its premium quality pharma formulations. Under the management of Mr. Rahul Thakral and Mr. Sunil Thakral, we have been relentlessly producing superior healthcare products to approach human medical needs. Talking about our highly demanded anti-inflammatory product portfolio, we take every significant step to relieve the issue from its absolute roots.
Have a glance at the high facets of Biotic Healthcare:
We deal in 300+ multi-specialty products considering various therapeutic segments.
The company inaugurates impressive programs for better drug manufacturing and delivery models all around the world.
We have massive decontaminated warehouses for complete production tasks.
We have attained numerous milestones due to our expertise and commitment to serve the best in the market.
Quality Approved Anti-Inflammatory Drugs for PCD Pharma Franchise
Quality is something that cannot be promised only with words, but it has to be displayed in its operations. With this belief, Biotic Healthcare is putting up its in-depth practices to ensure the optimum quality of products. We make sure that our formulations are subjected to a series of tests, implemented by the legal authorities. Our professional workforce including developers, quality supervisors, and medical experts design our products in such a manner that their perfection and efficiency can be seen just by the medicine presentation.
Quality policies followed by us:
Our medications undergo complete microbiological testing protocols and scientific screenings.
We utilize the best and flawless packaging material to avoid leakage and contamination risks.
We follow global industrial norms in our entire work actions to ensure maximal satisfaction.
Our top-class manufacturing facilities are practiced under excise-free zones.
Work with Supreme Quality Anti-Inflammatory Products Offered by Biotic Healthcare
Laying a centered emphasis on our commitments to deliver the best in the market, we have been unceasingly manufacturing and developing a wide range of pharma medicines. Being the Top PCD Pharma Company for Anti-Inflammatory Drug Range, Biotic Healthcare makes sure that its high-quality formulations serve the complete value of money to its clients and customers. We have prepared a high-graded business model for our business seekers so that they can smoothly and efficiently work in their business and receive abundant profits.
The benefits we have assured for franchise holders are as follows:
Exclusionary Monopoly Rights
Wide Array of Anti-Inflammatory Medicines
Prompt Delivery of Products
Firm Customer Assistance
Eye-Pleasing and Valuable Promotional Tools
Remunerative Business Deals
The anti-inflammatory medicine range will result in high profits for your business. If you want to excel in your business and want to get hold of the high-quality anti-inflammatory products at highly genuine prices, then come and join the Best Pharma Franchise Company for Anti-Inflammatory Products, Biotic Healthcare.
Get in Touch With Us!
Name - Biotic Healthcare
Address - Plot No. 43 (Ground floor) Industrial Area, Phase - 2 Panchkula – 134113
Phone - 8727992500, 8727992700, 9875942330
Email - [email protected], [email protected], [email protected]