PCD Pharma Franchise in Uttarakhand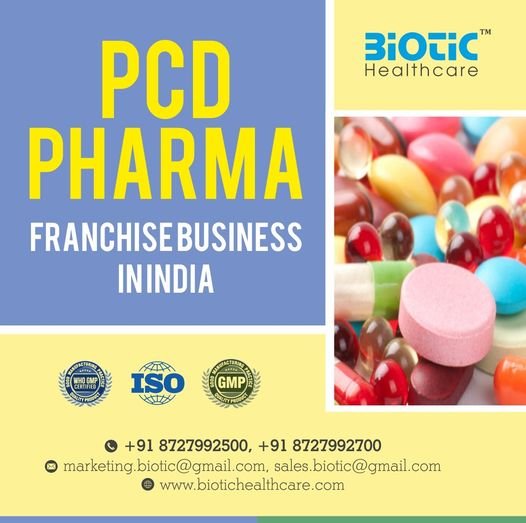 PCD Pharma Franchise in Uttarakhand – Starting your own business in the pharmaceutical industry is no more a daunting task. Presenting Biotic Healthcare, an ISO 9001:2008 certified pharma brand that delivers ultimate healthcare solutions to cater to the necessities of the customers. The company also offers monopoly-based PCD Pharma Franchise in Uttarakhand to all the interested individuals, medical representatives, or pharma retailers. The company deals in more than 400+ high-quality healthcare formulations that are delivered in the form of Tablets, Capsules, Ointments, Injectables, and many more. Biotic Healthcare is best suited for all those who are planning to start their own business in the beautiful Indian state of Uttarakhand.
The pharma franchise business is growing in India and Biotic Healthcare is a renowned name working in the Indian domestic market. The company has grabbed the attention of everyone through its infrastructure and class product portfolio. We have GMP-WHO-approved manufacturing units and a team of top-notch pharma experts to work under these units. With years of relentless efforts and hard work, today the company has a wide network of more than 500+ happy & satisfied clients. By connecting with us for the best , you will avail of some of the most irresistible benefits such as free marketing help, on-time product delivery, and much more. The company will assist you in every possible manner.
Grab astonishing franchise deals and start your own business in Uttarakhand with Biotic Healthcare. To know more dial 8727992500, 8727992700, 9875942330, or send us an email at [email protected], [email protected], [email protected].
Locations Targeted by Us in Uttarakhand for PCD Pharma Franchise
Biotic Healthcare, the leading PCD Pharma Franchise Company in Uttarakhand is offering monopoly-based pharma franchise business opportunities in several locations across the state. This is the ultimate opportunity for all the pharma retailers, experts, medical representatives, and interested individuals to kick start their own business. We have done our research and shortlisted some of the major locations where the demand for pharma medicines is high. Here are the locations targeted by Biotic Healthcare for PCD Pharma Franchise in Uttarakhand:
Haridwar
Chamoli
Udham Singh Nagar
Uttarkashi
Dehradun
Champawat
Nainital
Almora
Pauri Garhwal
Pithoragarh
Rudraprayag
Bageshwar
Tehri Garhwal
Complete Pharma Range Brought to you by Biotic Healthcare
Biotic Healthcare is the ultimate destination to get an all-in-one pharma range. The products manufactured by us are quality assured and lab tested. At the top PCD Pharma Franchise Company in Uttarakhand, Biotic Healthcare you will get a product portfolio that covers the entire healthcare segment. We make sure to pass our products through strict microbial testing and quality inspection to determine their safety and quality. Have a look at the exclusive product portfolio offered by us for PCD Pharma Franchise in Uttarakhand:
Tablets
Softgel Capsules
Drops
Capsules
Liquids
Soaps
Cream/Ointment
Injectables
Herbal/Ayurvedic
Dry Syrup/Powder
"Biotic Healthcare" Top Company for PCD Pharma Franchise in Uttarakhand
Delivering quality products and setting higher standards in the industry are the key habits of Biotic Healthcare. We are a company that has been considered as a standard-setting and tycoon brand in the Indian pharmaceutical fraternity. The company is progressing and getting an enormous amount of support from its associates. We are trusted by thousands of healthcare experts and millions of customers for getting top-rated pharma medicines. Here are the salient features of the best PCD Pharma Franchise Company in Uttarakhand, Biotic Healthcare:
Self-owned manufacturing units with state-of-the-art facilities.
Usage of new and improved machinery for products manufacturing.
Systematic shipment & delivery of products through string logistic channel.
Leakage-proof packaging of products for better shelf-life.
Collaboration with industrial best vendors to get raw material.
These are some of the things that will attract you to choose us for the pharma franchise business in Uttarakhand.
Reasons to Kick Start Your Own Business in With Us
Biotic Healthcare being the top PCD Pharma Franchise Company in Uttarakhand always wants the best for its clients & customers. The company has adopted a franchise model that will mutually benefit both the franchise holder and the franchise provider. Through our services, we will help like-minded individuals to start and expand their businesses in Uttarakhand. Our success rate is higher than most of the other brands working in the Indian domestic market. Have a look at the reasons to choose Biotic Healthcare for PCD Pharma Franchise in Uttarakhand:
Prompt delivery.
Wide product portfolio.
24/7 customer assistance.
Best ever packaging.
Full quality assurance.
Year-round stock availability.
Further, our highly skilled & dedicated team will help you with unique business strategies and marketing assistance. If you are interested to start your own business, then choose Biotic Healthcare for the best PCD Pharma Franchise in Uttarakhand.
Contact At
Name: Biotic Healthcare
Address: Plot No. 43 (Ground floor) Industrial Area, Phase - 2 Panchkula – 134113.
Phone: 8727992500, 8727992700, 9875942330
Email: [email protected], s[email protected], [email protected]