PCD Pharma Franchise in Leh Ladakh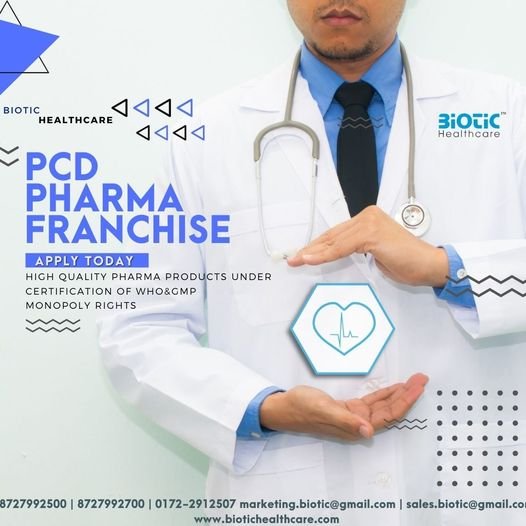 PCD Pharma Franchise in Leh Ladakh - Tapping into the pharmaceutical industry is not a novelty anymore. Providing franchise services at pocket-friendly prices, pharma companies allow individuals to have their own businesses. Biotic Healthcare is one of the most recognized companies in the pharma pipeline, attempting to strengthen its roots by inflating its franchise channel. The company offers PCD Pharma Franchise in Leh Ladakh on a monopoly basis.
---
We, Biotic Healthcare, welcome people to join hands with us to enjoy the marvelous perks offered to be a part of the pharmaceutical arena. Having been in the pharma sector for a long-time, we have taken the responsibility of fulfilling the unmet medical needs of the people residing in Leh Ladakh. Establishing a PCD Pharma Franchise in Leh Ladakh is the only way to make pharma products and medicines easily accessible to them. Be a part of our family to be a successful business entrepreneur.
To know more about our franchise services, product portfolio, or location availability, pick your phone and dial 8727992500, 8727992700, 9875942330. You can also drop an email at [email protected].
Scope of Investing in PCD Pharma Franchise in Leh Ladakh
The demand for pharmaceutical products and medicines is at its peak, particularly in Leh Ladakh. Most people in this location are suffering from respiratory ailments and seeking effective and high-quality medications. Due to a lack of medicine suppliers, people are facing difficulties to attain the medications they need.
This makes the market conditions of this city fruitful for the entrepreneur who is looking to invest in a highly profitable business. Along with that, Leh Ladakh is the main destination of travelers, therefore, the government is trying to provide better clinical facilities and support newbie entrepreneurs in establishing a pharma business. If you have made up your mind about commencing a business, then Leh Ladakh is the key location.
Comprehensive Product Range of Biotic Healthcare
Being the Best PCD Pharma Company in Leh Ladakh, Biotic Healthcare offers a wide array of pharma products and medicines. The company has an expert team of professionals that comprises pharmacists, R&D staff, top doctors, etc., who work round the clock to provide top-notch quality medication to the needly. Currently, we are manufacturing our products in three forms: solid, semi-solid, and liquid. All our pharma products are DCGI approved and conform to international norms.
Product Range Delivered by Biotic Healthcare:
Tablet,
Capsule,
Softgel Capsule,
Drops,
Soap,
Cream/Ointment,
Injectables, etc.
With the modern machinery and latest techniques, we are capable of carrying out bulk production of pharma products and medications. You can get in touch with us and deal with a wide range of pharmaceuticals.
Leading PCD Pharma Company in Leh Ladakh - Biotic Healthcare
Biotic Healthcare is a pronounced name in the healthcare industry that is well-known for its highest-quality pharma products and medicines. The company manufactures a wide range of pharmaceutical that is well-liked by top doctors, customers, and clients. Our pharma products and medicines are affordable, effective, and are prepared following cGMP regulations.
Below are the Highlights of Biotic Healthcare:
cGMP compliant manufacturing plant,
Holds rich experience in pharmaceuticals,
Backed by an expert team of professionals,
Adheres WHO, GMP, and environmental protocols,
Distributes a wide array of pharma products and medicines, etc.
These are a few highlights of the best PCD Pharma Franchise Company in Leh Ladakh. The company has won the trust of the clients by understanding their needs and manufacturing products accordingly.
Advantages of Joining Hands with us | Why Choose Us?
We have garnered over 15 years of experience in the pharmaceutical sector so we know the techniques flourishing a business in the marketplace. Leveraging our years of experience and expertise, we assist our franchise partners and support them from our ends. Our company offers them numerous perks that make the business more profitable for our franchise associates.
Benefits of Choosing Biotic Healthcare:
Enjoy exclusive monopoly rights,
Full promotional and marketing support,
Distribute high-end pharma products,
Superfast delivery of products,
Appealing product packaging, etc.
After joining your hands with the Best PCD Pharma Franchise Company in Leh Ladakh, you can enjoy all the above-listed benefits. If you are feeling interested in the same then make contact with us today!
Promotional Material To Flourish Your Business
Without promotional support from the parent company, any small or mid-tier business can't touch the sky. So we provide the most attractive promotional material to our valued franchise partners at zero cost.
Promotional Material Delivered by Biotic Healthcare:
Visiting Cards,
Catch Covers,
Visual Aids,
Brochures,
MR Bags,
Notepads,
Diaries,
Pens Set, etc.
If you are feeling interested in setting up your own PCD Pharma Franchise Business in Leh Ladakh, make contact with Biotic Healthcare today. We have mentioned our contact information below!
Reach out to us!
Name: Biotic Healthcare
Address: Plot No. 43 (Ground floor) Industrial Area, Phase - 2 Panchkula – 134113.
Phone: 8727992500, 8727992700, 9875942330
Email: [email protected], [email protected], [email protected]