PCD Pharma Franchise in Jammu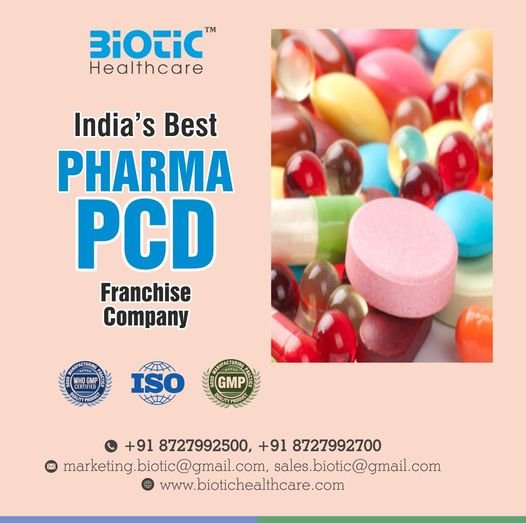 PCD Pharma Franchise in Jammu – Jammu is one of the biggest states in India. The total population of more than 7 lakh and growing demand for pharmaceutical products have made Jammu the best location to start a franchise business. Biotic Healthcare is an ISO 9001:2008 certified pharmaceutical company that is offering monopoly-based best PCD Pharma Franchise Jammu. The company is well-known among the pharma fraternity for its superior quality products and world-class infrastructure. We have a powerful logistic system and a network of more than 500+ distributors. Further, the company has opened its doors for everyone and we are inviting all the pharma retailers, wholesalers, dealers, medical representatives to join us.
Biotic Healthcare is a trustworthy and reliable name that works on its core values. We have become the leading brand in this domain because of our rigorous quality checking norms, high-standard products, superior manufacturing practices, and advanced technology. The company is assisted by the country's best R&D scientists who are deeply engaged in the formation and upbringing of a wide pharma range that includes products from all segments. Being the top PCD Pharma Franchise Company in Jammu, we are offering a few of the irresistible benefits to our prospective franchise partners like on-time shipment, promotional support without any additional cost, wide product range, etc.
It's your time to shine and secure a bright future in the pharma sector. To know more dial 8727992500, 8727992700, 9875942330, or send us an email at marketing.biotic@gmail.com, sales.biotic@gmail.com, healthcare.biotic@gmail.com.
Leading PCD Pharma Franchise in Jammu | Biotic Healthcare
Your search for the best pharma company ends at Biotic Healthcare. We are a company that is trusted by top healthcare experts and preferred by the top pharma experts, businessmen, professionals, and medical representatives. The company has grabbed the attention of everyone by coming with quality rich pharma products. We are a well-established corporate structure that is working with the vision to cover the global healthcare market. Have a look at the core competencies of the Top PCD Pharma Franchise Company in Jammu, Biotic Healthcare:
State of the art manufacturing units with full GMP-WHO assurance.
100% quality assurance of products.
Year-round stock availability for a smooth business cycle.
Superb R&D centers for bringing innovative and unique formulations.
Adequate storage facilities for germ-free storage of finished products.
Attractive product packaging for better shelf-life.
Lab testing of each and every molecule for proven safety.
These are some of the core competencies that will attract anyone to opt for the PCD Pharma Franchise in Jammu from Biotic Healthcare. Apart from this, our business model promotes mutual growth and expansion. With us, you can fulfill your dream to own a business.
Well-Balanced Pharma Portfolio Available at Biotic Healthcare
The biggest USP of Biotic Healthcare is its Product Portfolio. The range that we deliver is formulated using natural raw material and manufactured as per the Global Quality Standards. We make sure to use advanced technology equipment for product designing to production. In addition to this, our product range is highly cost-effective and highly demanded in the Jammu market. This range is perfectly made more those individuals who want to take their sales graph to the next level. Below is the complete pharma range that we deliver for PCD Pharma Franchise in Jammu:
Softgel Capsules
Liquids
Drops
Tablets
Cream/Ointment
Herbal/Ayurvedic
Capsules
Injectables
Dry Syrup/Powder
Soaps
Locations Covered by Us for Monopoly Based PCD Pharma Franchise in Jammu
Being the best PCD Pharma Franchise Company in Jammu, it is our duty to make quality healthcare services available for everyone. For business expansion purposes, we are offering monopoly-based franchise business opportunities in several locations of Jammu. The company makes sure to provide such astonishing offers that you cannot neglect. You will get full monopoly rights along with free promotional tools such as MR Bags, Pens, Reminder Cards, Notepads, Company Literature, etc. Here are the locations covered by Biotic Healthcare for PCD Pharma Franchise in Jammu:
Jammu
Samba
Doda
Rajouri
Kathua
Poonch
Kishtwar
Srinagar
Shopian
Kupwara
Budgam
Pulwama
Baramulla
Udhampur
Collaborate with Biotic Healthcare to Kick Start Your Business in Effective & Efficient Manner
Working with Biotic Healthcare will bring you enormous growth opportunities, ample business opportunities, prosperity, and rewards. We are a perfectly suited companion for all those individuals who want to begin their business with the best quality products and at the same time wanted to get the full value for their bucks. Here are the benefits of working with the leading PCD Pharma Franchise Company in Jammu:
Opportunity to work at your preferred location.
Year-round product availability.
24/7 customer assistance.
Excellent profit margins.
Reasonable investment requirements.
Free gifts and incentives.
Further Information
Name: Biotic Healthcare
Address: Plot No. 43 (Ground floor) Industrial Area, Phase - 2 Panchkula – 134113.
Phone: 8727992500, 8727992700, 9875942330
Email: marketing.biotic@gmail.com, sales.biotic@gmail.com, healthcare.biotic@gmail.com.