PCD Pharma Franchise in Chhattisgarh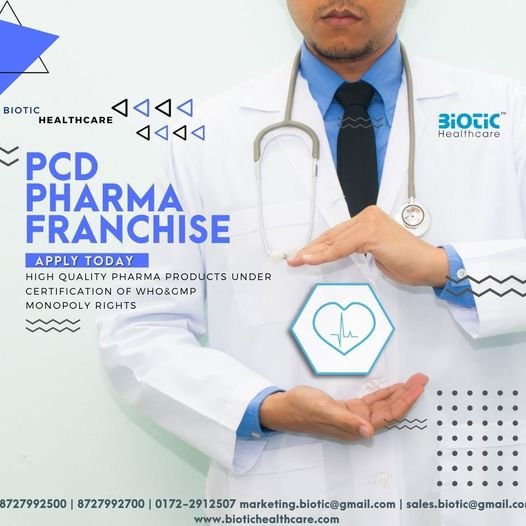 PCD Pharma Franchise in Chhattisgarh – Good health and education are the biggest priorities of every human being. With the growing healthcare issues, the demand for pharma medicines has inclined in Chhattisgarh. To enhance the accessibility of top-quality pharmaceutical products or drugs Biotic Healthcare, the leading PCD Pharma Franchise Company in Chhattisgarh started offering high-quality healthcare products at genuine prices. Biotic Healthcare is an ISO 9001:2008 registered pharmaceutical company that is helping customers to tackle hazardous environments by delivering a flawless range of products that cover ranges like Pediatric, Dermatology, Ayurvedic/Herbal range, etc.
The company has come up with a franchise business structure that will help the franchise holders to start and expand business in Chhattisgarh with less investment. The company is introducing itself in cities like Narayanpur, Kondagaon, Kanker, Raipur, Dantewada, Bijapur, Jagdalpur, Sukhma, etc. Due to the growing demand for pharma medicines, the pharma franchise business has flourished in Chhattisgarh. The services offered by the top will give you an opportunity to work at your preferred location. By working with us, you will get hands-on best quality pharma range, on-time product shipment, free marketing tools, and much more. Therefore, do join hands with us right now and kick start your journey.
To get more in-depth information dial 8727992500, 8727992700, 9875942330, or send us an email at marketing.biotic@gmail.com, sales.biotic@gmail.com, healthcare.biotic@gmail.com.
Locations Targeted for PCD Pharma Franchise in Chhattisgarh
Biotic Healthcare is driven by research and facts. Our experts did an extensive market analysis and conducted market surveys and find out that almost 70% of the total population of Chhattisgarh is suffering from healthcare issues. We have noted down the consumption patterns of the local community here and its surrounding areas and target few major cities where the demand for pharma medicines is particularly high. The company will offer monopoly rights along with all the necessary support required to start and expand. Here are the location targeted by the Best PCD Pharma Franchise Company in Chhattisgarh:
| | |
| --- | --- |
| Cities | Population |
| Raipur | 10,10,087 |
| Korba | 365253 |
| Rajnandgaon | 163122 |
| Jagdalpur | 125463 |
| Chirmiri | 103575 |
| Mahasamund | 96850 |
| Bhilai | 1003406 |
| Bilaspur | 331'030 |
| Raigarh | 150019 |
| Ambikapur | 114575 |
| Dhamtari | 788781 |
Leading PCD Pharma Franchise in Chhattisgarh | Biotic Healthcare
Biotic Healthcare is a fully functional brand that has been established as the pioneer brand to associate for the pharma franchise business. The company is climbing astonishing heights of success in the industry through its products and services. We have self-owned production units that are fully integrated with modernized resources such as imported machinery, quality checking tools, packaging devices, and many more. Our vision to deliver what is best for the clients & customers is what makes us the best Pharma Franchise Company in Chhattisgarh. Below are the major highlights of Biotic Healthcare:
The company is instilled with modern tools and imported machinery.
ISO certified brand with GMP-WHO-approved facilities.
We own manufacturing units that are set up as per the industrial norms.
Wide range of top-quality medicines covering the entire healthcare segment.
Moisture-free product packaging of the products to make them safe and look more appealing.
Delivery of products with a fixed time period through a powerful transportation network.
Top Quality Pharma Range Available for Dispersal
Biotic Healthcare, the leading PCD Pharma Franchise in Chhattisgarh is famous in the industry for its products. The company has hired a team of pharma experts, research & development scientists, pharmacists, and engineers who work to bring out the widest product range that you have ever seen before. Our products meet all the quality standards and industrial norms given by IMA. We make use of ready-to-use granules and 100% biologically active herbs to formulate our products. Below is the range delivered by Biotic Healthcare:
Tablets
Softgel Capsules
Drops
Capsules
Liquids
Soaps
Cream/Ointment
Injectables
Herbal/Ayurvedic
Dry Syrup/Powder
Benefits of Choosing Biotic Healthcare for the PCD Pharma Franchise in Chhattisgarh
Biotic Healthcare is the best brand to associate with. The company is technology-driven and holds the ownership of top-class resources that will you to start and expand your own business. We believe in forming long-term and long-lasting relationships with our franchise associates. The company has adopted a franchise business model that will provide mutual benefits to both parties. Using our expertise and resources, you can easily start and cement your place in the Chhattisgarh market. The distribution network of the top PCD Pharma Franchise Company in Chhattisgarh, Biotic Healthcare is wide and will make sure on-time product shipment. Here are the attractive perks to choosing us:
Unique monopoly rights for business.
Wide product range.
Regular inclusion of new products in the portfolio.
Same day product dispatch.
Opportunity to work at your preferred location.
Pocked friendly deals.
Fewer investment requirements.
Risk-free business.
These are some of the benefits that you can get by becoming our proud franchise business partner. As they say, choosing the perfect companion in the pharma industry is a must. If you are planning to kick start your business in Chhattisgarh and wanted to work with the best, then choose the best PCD Pharma Franchise in Chhattisgarh, Biotic Healthcare.
Contact Us
Name: Biotic Healthcare
Address: Plot No. 43 (Ground floor) Industrial Area, Phase - 2 Panchkula – 134113.
Phone: 8727992500, 8727992700, 9875942330
Email: marketing.biotic@gmail.com, sales.biotic@gmail.com, healthcare.biotic@gmail.com