PCD Pharma Franchise in Chennai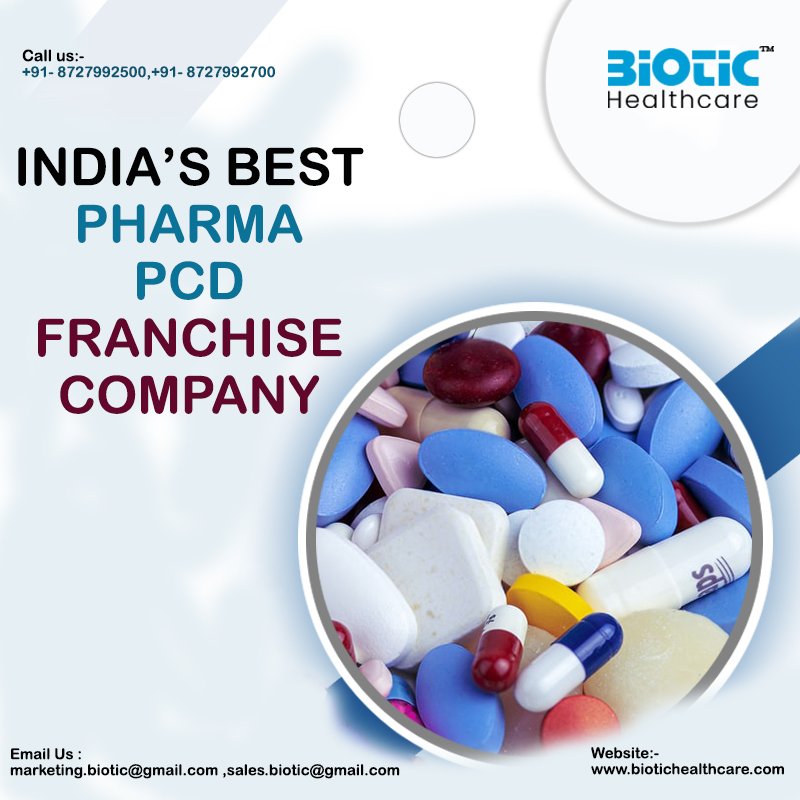 PCD Pharma Franchise in Chennai – Noticing the booming pharma industry and considering the business prospects offered by the Chennai market, we can say that having a pharma franchise business in Chennai is a brilliant business decision. Biotic Healthcare is an ISO, GMP, and WHO certified pharma company that is vastly experienced and offers monopoly-based best PCD Pharma Franchise in Chennai. The company is backed by all accreditations and we have a robust portfolio that consists of products such as Tablets, Creams, Injections, Capsules, Ointments, Syrups, Sachets, etc. All these products are made using the finest quality ingredients and manufactured under excise-free zones.
Chennai is one of the population-dense cities in South India. It has a total population of more than 11,503,293 and with a 2.39% rise in the population from last year, the medical and healthcare requirements of people here are also changing. Biotic Healthcare is meeting these requirements by delivering top-of-the-line pharma products at decent prices. We have GMP-WHO-approved state-of-the-art manufacturing units that allow us to carry out bulk production. By working with the Top you will be able to start your own business in any region of the state. The company will provide you full monopoly rights for your region plus you will also get a wide range of pharma franchise business benefits from us including free-of-cost promotional support, timely delivery, and much more.
So, if you have plans to invest in the healthcare industry and you want to earn better products and secure a bright future, then get in touch with us. Dial 8727992500, 8727992700, 9875942330, or send us an email at [email protected], [email protected], and [email protected] to know more.
Enlarging Prospects of PCD Pharma Franchise in Chennai
Establishing your own business in Chennai is always considered a smart and intelligent decision. High population, diversified healthcare requirements, never-ending demand for pharma products, and excellent governance, etc. are a few things that make Chennai one of the best locations to start a pharma franchise business. As per the healthcare survey, there has been an almost 70% rise in the demand for pharma medicines in the state. Additionally, superb governance and incentive schemes have also provided a much-needed boost to this sector.
So, if you are looking to invest in the pharma sector and you want to start your business with the most reliable and trustable pharma company, then work with the Best Pharma PCD Franchise Company in Chennai, Biotic Healthcare.
Top Quality Pharma Range Provided for PCD Franchise
Biotic Healthcare is the region's leading pharma company that offers a broad segment of healthcare medicines for the PCD Pharma Franchise in Chennai. The products delivered by us undergo several quality checks and they are manufactured under the strict observation of the country's best pharma experts and doctors. These products are fabricated using quality raw material and manufactured under GMO-WHO authorized units. Further, our products have been rewarded with DCGI and FSSAI certification for their quality, security, shelf-life, and results. Here is the range that we offer for Pharma PCD Franchise Company in Chennai:
Ointment
Tablets
Syrup
Powder
Capsules
Cream
Gel
Injectibles, etc.
Why it is Fruitful to Establish Business with Us
Recognized as the Best Pharma PCD Franchise Company in Chennai, Biotic Healthcare is dominating the Indian healthcare fraternity through its high-quality products and business services. The company is known to provide unmatchable quality products that are result-oriented, affordable, and capable to cure any health issue. The company is equipped with all the tools and resources that will help you to start and expand your business plus our experience and expertise will help you to explore new markets and get more exposure. Here is why taking PCD Pharma Franchise in Chennai from us will be fruitful for you:
The company holds ISO 9001:2008 certification.
We have in-house quality testing labs for uninterrupted research and innovation.
The company promise to deliver 100% quality checked products.
We ensure quick delivery of products across all locations
Avail the Best PCD Pharma Franchise in Chennai from Biotic Healthcare
Biotic Healthcare is a well-established pharma company working in the Chennai market for years. The company is managed by a team of specialists who are not only experienced but they are professional with their approach. Seeing the flourishing healthcare sector of Chennai, the company has come up with tremendous business deals that provide mutual profits and are based on mutually agreed terms and conditions. Have a look at the benefits of working with the Top Pharma PCD Franchise Company in Chennai:
We provide the best business deals.
Our rates are nominal.
We promise better returns.
You will get free of cost promotional tools.
We will provide you with full monopoly rights.
For More Details
Name: Biotic Healthcare
Address: Plot No. 43 (Ground floor) Industrial Area, Phase - 2 Panchkula – 134113.
Phone: 8727992500, 8727992700, 9875942330
Email: [email protected], [email protected], [email protected]