PCD Pharma Franchise in Chandigarh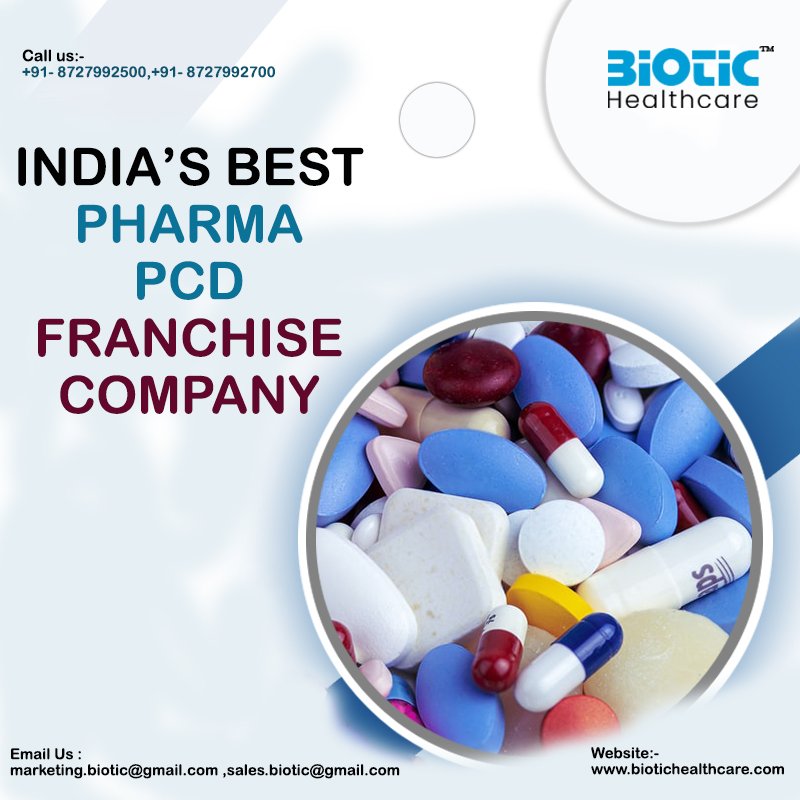 PCD Pharma Franchise in Chandigarh - Starting an own franchise business in the beautiful city Chandigarh is certainly a decision that could only be taken by the thoughtful minds who believe in reaching higher and only higher. If you are among those thoughtful minds, then you are absolutely at the right place. Biotic Healthcare, the top PCD Pharma Franchise Company in Chandigarh, has brought magnificent business opportunities for all the medical representatives, entrepreneurs, and other business seekers.
With more than 15 years of experience, Biotic Healthcare has come into view as the most trusted healthcare brand that is offering high-end formulations across the country. The company has a wide product catalog covering more than 400+ formulations that consist of Expectorants, Analgesics, Anti-Inflammatory, Neutraceuticals, Anti-Allergic, Antacids, Antibiotics, and much more. Furthermore, we have come up with sublime business contingencies of PCD Pharma Franchise in Chandigarh along with abundant profits.
If you are eager to grab amazing business deals with money-making profits, then call us on 8727992500, 8727992700, 9875942330, or write an email to us at [email protected], [email protected], [email protected].
Booming Scope of PCD Pharma Franchise in Chandigarh
Feasible business resources, huge markets, a flourishing economy, up-to-the-mark health infrastructure, and profound support of government are the major factors that acutely define Chandigarh in a bigger picture. Being the capital of the northern Indian states of Punjab and Haryana, Chandigarh is home to more than 11 lakh citizens. Other than that, Chandigarh is the first planned city of India with a number of UT health departments. 
The demand for effective pharma medicines is continuously upgrading in the city. Moreover, multiple business seekers are making their paths to run their business in Chandigarh because of its profit growth factors. If you also want to commence your own business in this sector, then this is definitely the right time for you. Take the first step of your success by associating with the Top PCD Pharma Company in Chandigarh, Biotic Healthcare.
Matchless Pharma Range Available at Biotic Healthcare
Marking up all the quality parameters, we at Biotic Healthcare are knee-deep in manufacturing and supplying the finest quality pharma medicines throughout the country at super affordable rates. Our complete product range is manufactured under groundbreaking manufacturing facilities directed by WHO-GMP norms. In addition, our formulations pass through precise screening and lab testings before delivering them to the market.
Right from collecting raw materials to the dispatch of the products, every activity is performed by our solitary team of pharma professionals and under the supervision of legal authorities. Our products are designed by India's top healthcare experts by keeping in mind the sequence of perfection aspects. Our innovative product portfolio is available in various therapeutic segments and comes in the following forms:
Soft Gel Capsules
Tablets
Creams
Capsules
Ointments
Drops
Liquids
Injectables
Soaps
Dry Syrups
Powders
Kids Care
Dermatology
Ayurvedic/Herbal
Biotic Healthcare - Top PCD Pharma Company in Chandigarh
Biotic Healthcare is the most prestigious pharmaceutical company that is no time has gained huge appreciation from the Chandigarh market. Being an ISO Certified healthcare organization, we adhere to bringing the necessary modifications and upgrades to our medicines. Our research and development team has always been committed to developing and innovating better and better formulations.
Since our inception, we have been achieving notable milestones in the pharmaceutical industry and now, we have become the Best Pharma Franchise Company in Chandigarh. Have a look at the highlights of Biotic Healthcare:
widespread range of medicines covering different health segments.
complete manufacturing tasks done under excise-free and eco-friendly zones.
efficient packaging proceedings with zero risks.
a wide panel of pharma experts including developers, scientists, supervisors, logistics providers, etc.
Enjoy Mutual Benefits With the Best PCD Pharma Franchise Company
When a business executive initiates to associate with us, we make sure to make him aware of how we will support him in running his business smoothly in the pharma market. This helps our associates to understand our conduct towards their venture and to fulfill their expectations from us. When it comes to meeting the requirements of our clients and customers, we are unstoppable. This is the reason why Biotic Healthcare is the prime choice of all the business seekers in Chandigarh.
Major reasons to collaborate with Biotic Healthcare:
you will get pocket-friendly business deals from the company's end.
the franchise associates will be equipped with free pleasing promotional tools.
you will get your products at your doorsteps within the settled time period.
exclusive monopoly rights will be served to all franchise holders.
great revenue returns will be given on investments.
If you are extremely serious about your future, your capabilities, and career growth, then make a contact with the Leading Pharma PCD Franchise Company in Chandigarh, Biotic Healthcare, and fetch amazing business benefits.
Contact Information
Name - Biotic Healthcare
Address - Plot No. 43 (Ground floor) Industrial Area, Phase - 2 Panchkula – 134113
Phone - 8727992500, 8727992700, 9875942330
Email - [email protected], [email protected], [email protected]