PCD Pharma Franchise in Ahmedabad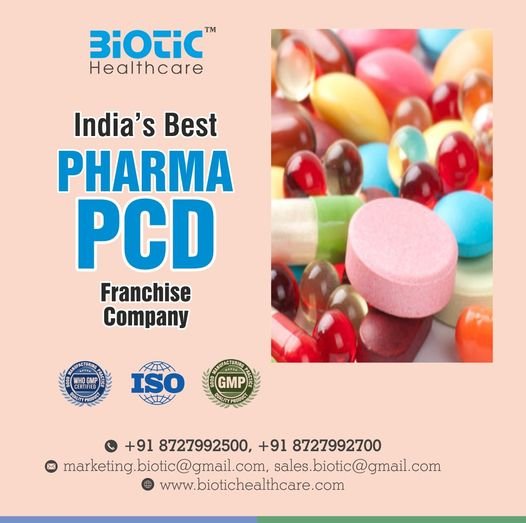 PCD Pharma Franchise in Ahmedabad – Pharma Business in Ahmedabad has become a highly popular affair in the present time. A number of business seekers all around the city are willing to start their business in the profitable pharma market of Ahmedabad. It is due to the high growth aspects and escalating demand for healthcare products. If you are also eager to get hold of a reliable business opportunity and want to run your business in a highly efficient manner, then collaborate with the Best PCD Pharma Franchise Company in Ahmedabad, Biotic Healthcare.
Biotic Healthcare is a highly augmenting pharmaceutical company that holds full-fledged proficiency in researching, manufacturing, techniques, and distribution of products. We are a rapidly growing pharmaceutical organization that goes above and beyond to ensure that all legal specifications, pharmacopeia standards, quality and safety criteria, and environmental policies are met. Strict Quality Inspection, Genuine Business Rights, and a Broad-Spectrum Range of Medicines are our key variables. Along with them, we have brought an astonishing opportunity of spanning highly profitable benefits for all our associates.
Take benefit of extraordinary business perks and deals by joining hands with Biotic Healthcare today. Call us at 8727992500, 8727992700, 9875942330, or email us at marketing.biotic@gmail.com, sales.biotic@gmail.com, or healthcare.biotic@gmail.com to know more.
Uplifting Opportunities of PCD Pharma Franchise in Ahmedabad
Ahmedabad, one of the largest and most popular cities in the western Indian state of Gujarat, holds a population of more than 84 lakh inhabitants. Such a huge number has resulted in matured demand for pharmaceutical medicines in the Ahmedabad market. With a strong demand growth in the healthcare space and a heavy focus of people on preventive care, dealing with pharma medicines in Ahmedabad is considered a great business choice. 
Biotic Healthcare is one of the well-known pharma franchise companies that is all set to offer a splendid business opportunity of PCD Pharma Franchise in Ahmedabad to all the medical representatives, pharma experts, wholesalers, entrepreneurs, etc., who are in a constant quest for the best PCD Pharma organization. We serve a well-planned pharma franchise model that covers all those benefits, profits, business agreements, etc., that a business aspirant desires in his business.
Partner with the Best PCD Pharma Franchise Company in Ahmedabad - Biotic Healthcare
We, Biotic Healthcare, are a prominent pharmaceutical company that excels in the business of manufacturing, exporting, and supplying premium quality pharma product range. We formulate top-quality pharmaceuticals in GMP-WHO-certified facilities. Our cutting-edge production houses are well-built with hi-tech equipment, modern machinery, and sophisticated technology that assist us in the smooth and systematic production of medicines. We have a skilled and fully-trained team of pharma experts that ensure zero error manufacturing of products. Here are the key facets of the Best PCD Pharma Franchise Company in Ahmedabad:
We own world-class R&D, production & packaging facilities furnished with hi-tech machinery.
The company delivers superior quality healthcare medicines belonging to multiple segments.
We have collaborations with top-notch logistics service providers for the safe delivery of products within the stipulated time.
Our products are securely packed with air-tight and leakage-proof packaging.
First-Rate Pharma Product Range Offered at Economical Prices
Quality is the pillar of the Best PCD Pharma Franchise Company in Ahmedabad, Biotic Healthcare. The company makes every crucial effort to bring out lifesaving medicines that become successful in treating a wide variety of health ailments. Before releasing any of our medicines on the market, they are all put through multiple quality tests in our separate quality monitoring facilities. Furthermore, the dosage forms of our medications are highly accessible which cover capsules, injectables, dry syrups, tablets, soft gel capsules, ointments, creams, powders, drops, and much more. Have a look at the premium product range offered by Biotic Healthcare:
Antibiotics
Expectorants
Anti-Tussives
Anti-Inflammatory
Ayurvedic/Herbal
Antimicrobials
Nutraceuticals
Antacids
Analgesics
Anti-Allergic
β¬lactams
Antiulcerants
Work with Biotic Healthcare and Get Access to Money-Making Profits
Regarded as the Leading PCD Pharma Franchise Company in Ahmedabad, Biotic Healthcare is a one-stop destination for a remarkable range of pharma medicines and splendid pharma business deals. We are widely known in the pharma market as an ethical firm for our transparent and honest business dealings. Choosing us for your successful pharma business in Ahmedabad will lead you to a complete array of benefits that will allow you to manage your business without any inflexibility or inconvenience. Check out the lucrative benefits of choosing us for the PCD Pharma Franchise in Ahmedabad:
Vast Product Portfolio of Various Therapeutics
Complete Customer Support
Free-of-Cost and Attractive Marketing Tools
Quality Assured Medicines at Reasonable Prices
Unique and Definite Monopoly Rights
Complete Stock Availability with New & Innovative Medicines
So, enjoy the exclusive perks and come in touch with Biotic Healthcare to get the remunerative opportunity of the PCD Pharma Franchise in Ahmedabad.
Reach Out to Us!
Name: Biotic Healthcare
Address: Plot No. 43 (Ground floor) Industrial Area, Phase - 2 Panchkula – 134113
Phone: 8727992500, 8727992700, 9875942330
Email: marketing.biotic@gmail.com, sales.biotic@gmail.com, healthcare.biotic@gmail.com