PCD Pharma Franchise Company in Bangalore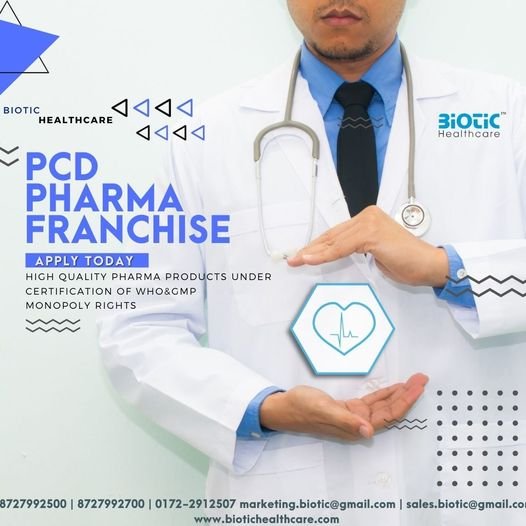 PCD Pharma Franchise Company in Bangalore - Bangalore, also called Bengaluru, is the capital of India's Southern State of Karnataka. It is a home of around 12.34 million folks. People living here are really health conscious and demand effective medicines to keep them away from harmful diseases. In order to calm this surging demand fort medicines, the top PCD Pharma Company in Bangalore Biotic Healthcare escalated its roots in wider parts of Bangalore.
Biotic Healthcare is an ISO Certified healthcare organization that possesses state-of-the-art manufacturing and R&D centers that works under WHO-GMP standards. With a team of skilled experts, research professionals, healthcare specialists, we are now capable to provide a broad-spectrum range of pharma formulations to cure the patients dealing with several health issues. Thus, we have come up with an enticing opportunity of PCD Pharma Franchise in Bangalore to make a wider presence.
Know more about the company and the lucrative services. Call us on 8727992500, 8727992700, 9875942330 or email us at [email protected]
Supercolossal Scope of PCD Pharma Franchise in Bangalore
Being the center of India's high-tech industry, Bangalore is widely known as the "Silicon Valley of India". Because of its advanced medical infrastructure, hi-tech tecnologies, top-class doctors, and surging demand for medicines, it becomes a perfect destination for all those individuals who want to run their own PCD Pharma Franchise Business in the pharma industry. People residing here know the value of effective medicines and thus, they do not compromise on their health.
If you reside in Bangalore, have robust business mindset, and dedicated towards work, then you are a perfect business aspirant for PCD Pharma Franchise in Bangalore. Bring out your inner capabilities and start your franchise business with top-quality pharma products provided by us.
DCGI-Approved Pharma Products at Modest Prices
With an exposure of more than 15 years in the pharma market, we are pledged to the ailing mankind of the country by providing excellent quality of medicines to our clients as well as customers. We are known as one of the prominent manufacturers and suppliers of a wide range of pharma formulations at unbeatable prices. Among the largest vertically integrated pharma companies in India, we hold a wider catalog of products covering various health segments.
Our wide-spectrum range of best quality products include:
Tablets
Liquids
Soft Gels
Syrups
Capsules
Drops
Ointments
Creams
Injectables
Dry Syrups
Dermatology Range
Powders, etc.
Promotional Inputs for Enhanced Sales and Wider Market Presence
One major thing that separates us from other companies is we make sure that our associates do not face any trouble in terms or escalating their business in an efficient manner. We provide the most attractive promotional equipment to our associates with zero cost. These promotional tools play a vital role in broadening the sales to a wider level. Thus, with the help Biotic Healthcare, the Top PCD Company in Bangalore, you would not need to spend a single penny on the promotional tools and you will get a huge market recognition in a very short span of time.
Visual Aids
Brochures
MR Bags
Notepads
Visiting Cards
Catch Covers
Diaries
Company Letterhead
Pens Set
Postal Envelopes, etc.
Advantages of Linking With Top PCD Pharma Company in Bangalore
Biotic Healthcare has a belief that the growth and development of a business directly depends on client satisaction, and the client satisfaction can be gained only if we provide him accurate services. We believe in forming strong and long-lasting relationships with our business associates. Thus, we have prepared an impressive PCD Pharma Franchise in Bangalore that holds mutual benefits to both parties. We have come up with our business model in Bangalore for all those individuals who are ready to make their careers better in the pharma industry.
Following below are the exclusive perks of joining us:
Privileged Monopoly Rights
Outspread Variety of Pharma Medicines
Genuine and Pocket-Friendly Deals
Lesser Investment with Major Revenue Returns
Same Day Dispatch of Products
Minimal Medicine Prices
Year-Round Stock Availability
If you want to be have a flourished pharma franchise business with the support of top-leading Pharma Franchise Company in Bangalore, then do connect with Biotic Healthcare and within no time, you will be seizing remarkable benefits in the pharma industry.
For More Information, Contact Us!
Name: Biotic Healthcare
Address: Plot No. 43 (Ground floor) Industrial Area, Phase - 2 Panchkula – 134113.
Phone: 8727992500, 8727992700, 9875942330
Email: [email protected], [email protected], [email protected]