Anti-Allergic Medicine Franchise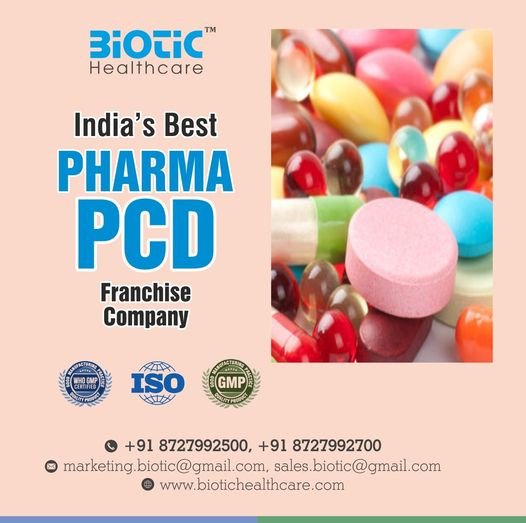 Anti-Allergic Medicine Franchise – A recent data suggests that the market for Anti-Allergic products will touch USD 280 million by the end of 2023. The surging allergies and growing need for anti-allergic drugs have forced Biotic Healthcare to come out with the best Anti-Allergic Medicine for PCD Pharma Franchise. Biotic Healthcare is an ISO 9001:2008 certified company that has a rich experience and expertise of more than 15+ years. The company holds all necessary certificates and also owns state-of-the-art GMP-WHO assured manufacturing units.
The peaking allergy issues and ever-growing demand for anti-allergic drugs depict the enormous scope of dealing with anti-allergic medicines. Biotic Healthcare is setting high standards in the industry by coming up with Top . The company delivers drugs that are fabricated after path-breaking research and manufactured using scientifically tested ingredients. Our product comes under great packing and is delivered in the form of Tablets, Capsules, Liquids, Drops, Ointments, Injections, Sachets, Dry Syrups, etc. By choosing Biotic Healthcare, you will earn better profits as we will provide you with full monopoly rights, timely delivery of products, free promotional tools, and much more.
Know more about offers, deals, requirements, etc. Dial 8727992500, 8727992700, 9875942330, or send us an email at [email protected], [email protected], [email protected] to know more.
Scope of Having Anti-Allergic Medicines Franchise in India
With a predicted growth rate of more than 9.8%, the Anti-Allergic drug market with reach USD 280 million by the end of 2023. Such as rapid increase and the sublime growth rate has attracted lots of businessmen to invest in this medicine range. Allery is nothing but the abnormal reaction of the body's immune system. Due to growing pollution, weather changes, the spread of viruses, etc. allergic problems are growing in India. Thus, having business with anti-allergic medicines will be a smart business decision that will give you better returns and profits.
If you are looking to start a business with this products range, then take Anti-Allergic Medicine for PCD Pharma Franchise from Biotic Healthcare. By investing in us, you will grab amazing business deals and also get a high-demand range of Anti-Allergic medicines. The company promises better services, assured returns, and 24/7 customer assistance.
Biotic Healthcare – Best Company for Anti-Allergic Medicine Franchise
We are a leading brand name that is well-known to offer superior quality pharma products and business deals across the country. The company is shaping a secured future of all pharma aspirants, business seekers, medical representatives, or retailers by providing them mutually beneficial business deals. Over the years, the company has been provoking high-class pharma products and transparent pharma franchise deals. Due to our work ethic, consistency and professionalism, we have earned many awards and recognition from the regulatory bodies. Below are the benefits of taking Anti-Allergic Medicine for PCD Pharma Franchise from Biotic Healthcare:
We adhere to Good Manufacturing practices and follow all Quality & safety standards.
The company has GMP-WHO-approved state-of-the-art manufacturing units.
We are backed by a magnificent team of pharma experts, R&D scientists, manufacturing supervisors, etc.
The company ensures proper labeling and air-tight packing of products.
Our product range is delivered at affordable rates.
Series of Measures Adopted for Better Quality Medicines
Being a quality-driven company, we at Biotic Healthcare has come up with quality assured Anti-Allergic Medicine for PCD Pharma Franchise. The company is inspired by the agenda to bring our higher quality Anti-Allergic medicines that promote better wellbeing. To achieve higher quality standards, we follow a sophisticated quality assessment process that dictates us to test the products to obtain their safety levels, quality marks, and shelf-life. Below is the list of quality measured followed at Biotic Healthcare:
We pass the products through a series of quality checks at various levels of manufacturing.
Our entire product range is packed under moisture-proof and leakage-free packing.
We use genuine quality and clinically tested raw materials for manufacturing purposes.
Our experts immediately return the rejected material back to the vendor.
We have strong tie-ups with the industry's best raw material suppliers.
How Working with Biotic Healthcare will be Profitable
Biotic Healthcare is the best pharma company that is offering an Anti-Allergic Medicine Franchise. We have opened our doors for all those individuals who are looking to jump into the pharma sector. Working with us will help you to start your business, get good market exposure and earn limitless profits. We have all the tools and resources that will help you to work freely without any external interference. Right below are the benefits of working with Biotic Healthcare:
The company will provide you with legally approved Anti-Allergic products.
You will get free promotional tools from our side.
We will offer businesses with monopoly rights.
The company assures on-time delivery of products.
We make sure to give you good profit margins.
You will get attractive incentives and gifts from the company side.
Contact Details
Name: Biotic Healthcare
Address: Plot No. 43 (Ground floor) Industrial Area, Phase - 2 Panchkula – 134113.
Phone: 8727992500, 8727992700, 9875942330
Email: [email protected], [email protected], [email protected]